Project Architect for Architectural and Interior Design Firm
Project Architect for Architectural and Interior Design Firm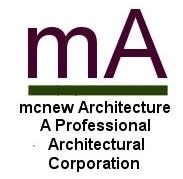 mcnew Architecture, APAC, an architectural and interior design firm, is searching for a talented and creative individual to join our team. We are seeking a full time architect with experience in retail, commercial, educational and/or healthcare projects.
Responsibilities:
The architect will be responsible for all aspects of project design and delivery. These responsibilities include client communications, design, productions of plans and specifications, quality control, consultant coordination, and construction administration. A licensed architect with 3 to 5 years minimum experience and the ability to work independently is preferred.
Skills and Qualifications:
Bachelor's or Master's Degree (Accredited) in Architecture
Proficiency with Code analysis, and accessibility requirements.
Construction detailing and administration experience.
Proficiency in AutoCAD & Revit.
Proficiency in Adobe Photoshop.
Proficiency in MS Office including Word and Excel.
Ability to work on multiple projects.
Exceptional attention to detail.
Excellent verbal and written communication skills.
About Us:
mcnew Architecture, APAC is a 19 year old firm based in Shreveport, Louisiana with projects in Louisiana, Arkansas, Texas, and Mississippi. Our portfolio includes retail, commercial office, medical, civic, and educational projects in both new construction and renovation.
To Be Considered:
Please email brianmcnew@att.net with a cover letter, your resume and portfolio. You will be contacted for an initial phone interview and follow-up in-person interview. All information will be kept in the strictest confidence.
Additional Info
Job Type : Full-Time
Education Level : Bachelors Degree, Masters
Experience Level : Mid to Senior Level
Job Function : ""